RAISING FUNDS FOR LIFESAVING NICU RESEARCH AT THE ROYAL
EMBARK ON THE TRIP OF A LIFETIME
29th September – 15th October
Allow 16-18 days for travel & trek
Cost
Approx. $6,000 AUD
Incl. guided trek, flights, accommodation, insurance, visa, personal $500 donation, and spending money for meals. Each paid separately.

Connect
Join like-minded people who are passionate about newborn health. Group training sessions will run monthly in the lead-up to the trek.

Fundraise
Ask your family, friends, and colleagues to sponsor you. What you're doing is amazing!

Trek
Embark on the trip of a life-time and tick Everest off your bucket list while fundraising for lifesaving NICU research.

Research
All funds raised will help fund the WHEAT Trial at The Royal. This study will help save the lives of countless premature newborns suffering from necrotising enterocolitis (NEC)
The WHEAT Trial

All funds raised from the 2023 Everest Base Camp Trek will go towards funding the WHEAT Trial currently being undertaken in the Newborn Intensive Care Unit at The Royal.

WHEAT stands for WithHolding or continuing Enteral feeds Around blood Transfusion and aims to prevent necrotising enterocolitis (NEC) in preterm infants born before 30 weeks. Necrotising Enterocolitis (NEC) is a neonatal disease associated with high risks of death and disability.

Every donation, no matter how big or small will get us one step closer to preventing this devastating disease in premature babies at The Royal and beyond.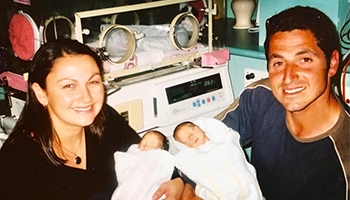 About the Madison Capaldi Research Fund
Established in memory of Madison Capaldi, the MCRF play an essential role in funding life-saving care in The Royal's NICU and beyond. Since 2004, the MCRF has raised more than $600,000 for research and equipment at The Royal.