THE MADISON CAPALDI RESEARCH FUND
Madison was just eight weeks old when Joe and Danielle Capaldi discovered she had a devastating intestine-affecting disease known as Necrotising Enterocolitis(NEC). Madison was one of their twin girls, born prematurely at 28 weeks, and whisked away into The Royal's NICU. There, surgeons did their utmost to save Madison's life by removing the damaged section of her bowel. Despite this, and the world-class, round-the-clock care she received, The Capaldi's little girl succumbed to the disease shortly afterwards.
Madison's twin Charlotte, who survived, is now a healthy, happy 13-year old, and a proud sister to her nine-year-old brother Noah.
Despite their loss, Joe and Danielle set up the Madison Capaldi Research Fund and have since raised over $600,000 to research the disease and other illnesses that affect premature babies through fundraising events such as gala dinners and golf days and most recently, The Kokoda Challenge.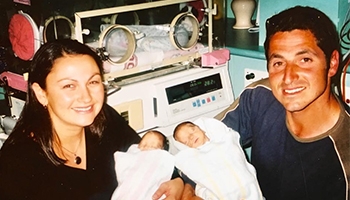 The Madison Capaldi Research Fund (MCRF) has played a significant role in the NICU for the last 14 years. Fundraising events have supported and enabled thought-leading research, which has had a direct impact in lowering the rates of Necrotising Enterocolitis (NEC) and shaping clinical care guidelines to ensure this devastating gut disease for premature babies is becoming less frequent.
The most recent research projects led by Dr Tim Schindler and Professor Kei Lui have focused on understanding of how feeding and blood transfusion times may be impacting the digestive system of premature babies. Early findings are promising, moving to lower rates of NEC in our NICU. This research has national-wide and international impact opportunity with the research now being expanded.