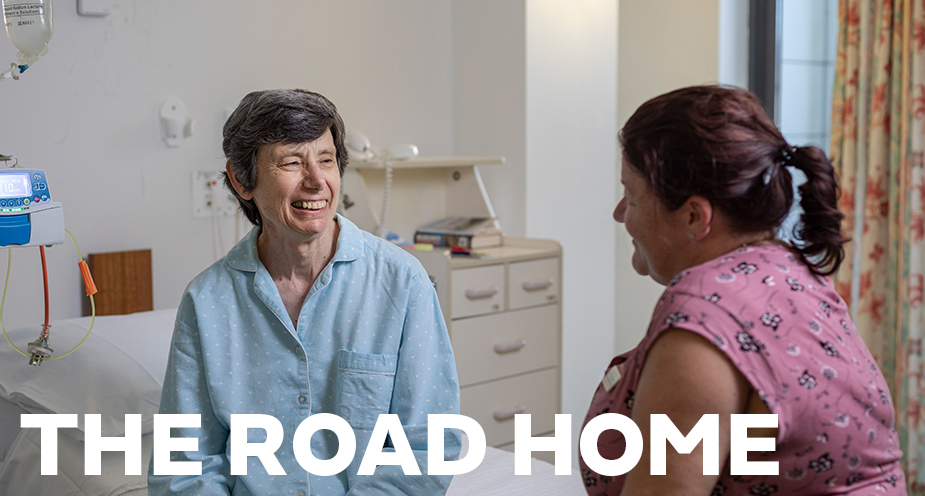 Sister Bernadette had reached a high point in her career when she found out she had ovarian cancer.
After working for the Kensington-based Daughters of Our Lady of the Sacred Heart for more than twenty years, she'd been asked to work as the General Secretary for the order in Rome.
Sister Bernadette loved every minute of it, documenting their missionary work, meeting nuns from all over the world, and in her free time, visiting the holy sites of St Peter's Basilica, St Peter's Square and cultural treasures such as The Sistine Chapel.
But despite the riches around her, when the 63-year-old received her diagnosis, she knew there was only one place in the world she wanted to be treated: back at home at The Royal Hospital for Women, Randwick.
"Women come from all over Australia, the Pacific and South East Asia to have their babies or be treated for cancer at the hospital, so I felt incredibly lucky to have a hospital of this calibre so close to home," she says.
Despite a hysterectomy, and several rounds of chemotherapy, the cancer has recurred, resulting in more treatment.
"It certainly makes you focus on what's important, and for me, that's prayer and meditation, and spending more time with my family and friends," she says. (She has seven siblings, 30 nieces and nephews and 10 grand nieces and nephews.)
Like many of the thousands of women who undergo chemotherapy at The Royal every year, the first person Sister Bernadette met in the oncology unit was Jennie Duggan, otherwise known as "the chemo queen". Jennie has run the unit for more than 30 years, overseeing the patients' treatment, liaising with surgeons and explaining everything clearly to her patients.
"Jennie and every one of her staff were just so gentle and caring and concerned," Sister Bernadette says. "It's a little overwhelming when you're talking to the surgeon or oncologists – often I had questions later when I'd thought it through – so it was so reassuring knowing I could ask Jennie anything without sounding silly. I've been given exceptional care here. I feel very fortunate."
The Royal Hospital for Women is a leader in the treatment of gynaecological cancer, opening Australia's first specialty specialty centre to treat these conditions more than 30 years ago.
Every year, the department treats 350 new invasive cancers, performs 330 major operations and undertakes more than 1000 cycles of chemotherapy.
As well as treating many patients, the hospital is also fighting ovarian cancer through rigorous research. The holy grail of ovarian cancer is a blood test that could be used as a screening test for all adult women. An annual check-up would mean most ovarian cancers could be detected before disease spreads beyond the ovaries. Early stage ovarian cancer has a high cure rate, often with surgery alone, without chemotherapy.
The Royal Hospital for Women has been working in partnership with research scientists at the Lowy Institute, and earlier at the Garvan Institute on the screening test.
Ovarian cancer is one of the most dangerous cancers for women; about 70 per cent of women are not diagnosed until the cancer has spread beyond the ovaries, because often there are no major symptoms that would cause a woman to seek medical advice.
DONATE BELOW TO SUPPORT THE ROYAL'S GYNAECOLOGY ONCOLOGY WARD