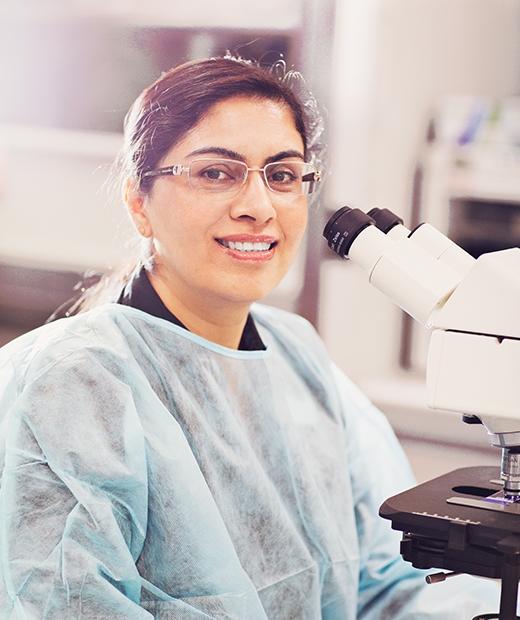 CREATOR OPPORTUNITY
THE FERTILITY & RESEARCH CENTRE
"I didn't know if I could ever have children" says Sarah, 3 years years cancer free and now mother of one thanks to fertility perservation.
The Fertility & Research Centre will offer cancer patients the chance to have biological children despite the side effects of chemotherapy and radiotherapy, which would otherwise render them sterile. As a Creator, your donation will help to establish a Centre of clinical and research excellence, bringing together clinical experts in reproductive medicine and IVF, cancer specialists and research scientists; all of which will help to provide the opportunity of having a family for people like Sarah.
The Fertility & Research Centre will be Australia's first public, holistic fertility and IVF Centre to combine basic and clinical research with comprehensive IVF and assisted reproduction treatment and services for all patients, regardless of socio-economic status.
The Centre will provide fertility preservation and continuity of care for cancer patients and will serve as a clinical and academic training centre, as well as an arena for world-class translational research. And through our innovative research program, we will improve fertility preservation and assisted reproduction services, and increase IVF success rates.
Three donation levels of support are available within our Creators program;
Vision Creator

$25,000 donation

Supporting Creator

$10,000 donation

Opportunity Creator

$5,000 donation
All donations are fully tax-deductible and will receive recognition in our Creator Recognition Wall located in the reception area of the Fertility & Research Centre. All Creators will receive ongoing information, and updates from the Fertility & Research Centre
and how their support has impacted our community and future generations.
"Join us and bring compassion and science together. Together we can create a world leading fertility centre"
- Professor William Ledger, FRC Project Lead

Please contact:
Trish O'Brien
CEO Royal Hospital for Women Foundation
trish@royalwomen.org.au
02 9382 6720
"It is our mission to make IVF and fertiity treatment far more accessible to all people, rather than limiting such treatments to the economic elite as is currently the case. We believe that all members of the community have the right to equal access to fertility treatments, regardless of their financial circumstances"
- Professor William Ledger