ONE FARRER PLACE LUNCH AND LEARN
The Royal Hospital for Women Foundation has partnered with One Farrer Place (Governor Phillip Tower and Governor Macquarie Tower) to take The Royal to the city and deliver talks at Dexus Place on a wide range of health matters to the 6,000 people located within the 120 businesses at One Farrer Place.
THE 1000 DAY JOURNEY FAMILY WELLNESS FROM CONCEPTION ONWARDS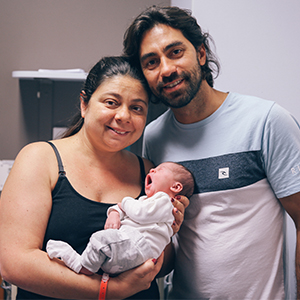 THE PRESENTER
Julie works for Blackmores as an advisor on infant nutrition and mother and baby health care.
Julie is an International Board certified Lactation Consultant (IBCLC) and a natural healthcare practitioner who has been working with new parents and their babies for 20 years.
THE TALK (DATE TBA)
The 1,000 days between conception and a child's 2nd birthday are important for their cognitive, physical and social development. While most people have heard about 'what not to eat when pregnant,' there's still limited public understanding of how other factors can impact the health and development of a child from as early as before conception. It's not just about mums– Dad's health is important too.
ABOUT THE ROYAL HOSPITAL FOR WOMEN
The Royal Hospital for Women is the only dedicated and specialist women's hospital in NSW. The Royal's mission is to advance health and medical science for the benefit of women and newborns.
Every year The Royal helps deliver more than 4,000 babies, cares for more than 1,000 premature babies and provides treatment and care for more than 10,000 women including maternal fetal medicine, gynaecology, breast cancer, gynaecological oncology, adolescent gynaecology, fertility and reproductive medicine.
The Royal Hospital for Women Foundation provides essential funding required by The Royal for cutting-edge medical equipment, translational medical research, and holistic programs to enable an outstanding level of care and medical excellence. We seek to improve the health outcomes of women and babies in our community and future generations.
To register and for more information on our health talks, please fill out the below: