THE SINGING NURSE OF THE NICU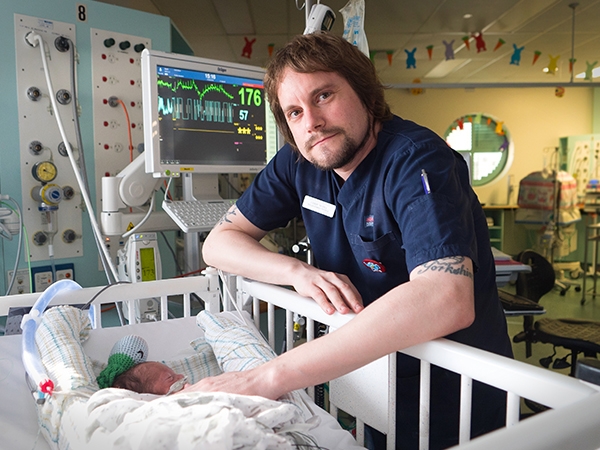 The Newborn Intensive Care Unit (NICU) of The Royal bristles with technology; incubators, ventilators, drips, and special lights that give the hospital's premature babies a fighting chance. But there's something else the newborns are given which is just as important; the loving touch and voices of the nurses who care for them.
UK-trained nurse Chris Noble likes to sing to his tiny charges as he changes their nappies or readjusts their oxygen flow. He'll talk to them about his life as he re-wraps them if they've wriggled out of their blanket. "They really calm down once they hear a familiar
voice, or feel a familiar touch," says Chris. He became fascinated by what he calls these "little people" early in his career, and has worked in the Intensive Care for Newborns ever since.
"They have their own little personalities very early on," Chris says. "They'll sleep in a certain way, with a hand over their head, or try and pull a tube out." Within days, many of them try to find their voices too.
"Sometimes it's just a tiny squeak, but it's incredible the way they try to express their personalities," he says. The NICU nurses help to care for the babies. They feed them, bathe them, dress them, and give medications.
A highlight is taking photographs of the babies when they're looking cute and their parents are out. It is a nice surprise when the parents return to find a new photo of their baby on the crib. They give them nicknames such as "King", "The Bodyguard", or "Old Man" and teach the parents how to wrap them, bathe them, and hold them for hours at a time on their chest - Kanga Care.
"Sometimes parents say they don't know how to love their babies, because they're out of reach in their humidicribs," Chris says. "It's very rewarding showing parents they can care for their baby very early on, and seeing them go home with confidence and a big smile on their faces." For more information on the NICU or to donate,
Click here to make a donation to the Newborn Intensive Care Unit