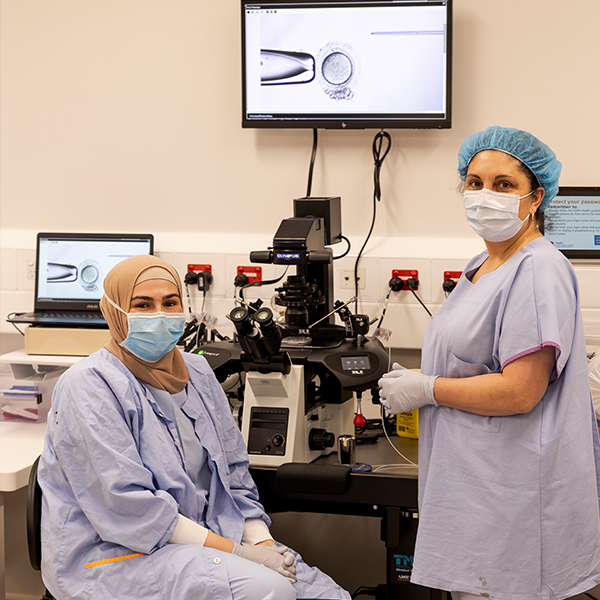 Sarah has always wanted to be in a position where she can help people and bring families together.
'I tell all my patients, sometimes it sounds a bit cliché but I do feel privileged and humbled to be able to do what I do, to help them out.'
Being an integral part of The Royal Hospital for Women as an Embryologist in Fertility & Research Centre, Sarah thrives on the service she provides to her patients, spending quality time with her patients and making them 'feel at ease, feel comfortable.'
The Royal Hospital for Women's Fertility & Research Centre became the first dedicated oncofertility centre in Australia when it opened in 2019. It is the only fertility centre in a public hospital setting to combine comprehensive, low-cost fertility programs, IVF, and clinical research, together with oncofertility services.

Donations to Heart for Her will help staff like Sarah have the equipment, tools and resources to help create more life.
There are a wide range of reasons a patient may need to visit the fertility clinic.
IVF (in vitro fertilisation) is the umbrella term for services such as egg freezing, embryo genetic testing, sperm donation, assisted insemination, traditional IVF, and IVM.
Sarah has been part of the egg retrieval and embryo development process in the fertility lab since its inception. The Royal went from housing 0 eggs to now hundreds of patients' eggs that someday may be the next special member of that person's family.
With the level of emotional vulnerability involved in this process for patients, Sarah takes the time to sit with each one of them to answer any questions they may have. 'I'm a bit of a chatterbox', says Sarah who goes above and beyond to create the connection and care for her patients that allows them 'to be able to trust [me], I want them to know that I am doing the best that I can for them.'
Combining Sarah's continuity of care with her passion for embryology and creating life, we see an incredibly high calibre of professionalism, fostering interconnected working relationships. As Sarah beautifully states: 'the more standardised the practice the better the outcome for the patient'.
Sarah is an integral part of the incredible work that happens every day in The Royal's Fertility and Research Centre (FRC). The FRC was opened in 2017, with the help of our donors and partners who donated over $1.6 million.
A donation to Heart for Her will fund innovation at The Royal and give every family who visits the FRC a chance at a healthy baby.