"BABY TYSON'S LUNGS WEREN'T FULLY DEVELOPED AND
HE NEEDED HELP."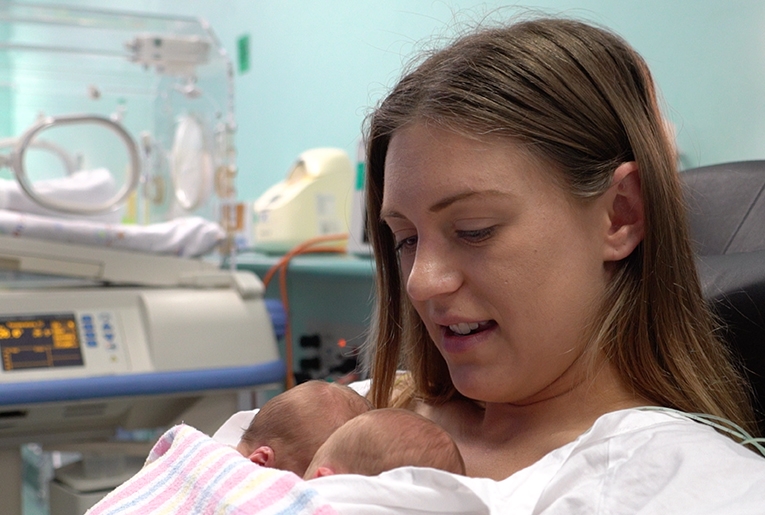 An unexpected pain prompted a visit to the doctor... The next thing Alyssa knew, her twins were being delivered 10 weeks early.
With weeks to go before their babies were due,
Alyssa and Ashley didn't expect to have a helicopter flying one of their newborn twins from Wollongong to the Royal Hospital for Women at Randwick.
"I hadn't even packed a bag" mum Alyssa explained. She wasn't expecting to meet their twin boys, Tyson and Koa, for another ten weeks when some unexpected pain prompted a visit to the doctor.
The couple, who live in the seaside town of Kiama – 130 kilometers south of Sydney – expected this check-up to be routine.
"We were sure it was just a scare, but the next few hours were a blur. It happened so fast that I can't remember having time to worry. The next thing I knew my twin boys had been delivered ten weeks early."
"Baby Tyson's lungs weren't fully developed and he needed help."
Tyson was flown by Air Ambulance to the world-leading Newborn Intensive Care Unit (NICU) at The Royal Hospital for Women in Randwick. He's one of many babies who are transported to The Royal from outside the Sydney metropolitan region every year.
As the only hospital in New South Wales dedicated to women's health and perinatal intensive care, The Royal's NICU regularly saves the lives of babies from across the state.
Tyson's healthier twin brother Koa also needed help. He followed by road transport with his concerned parents. After weeks of neonatal care in the NICU, Tyson and Koa are now healthy and thriving,
safely at home with their parents.
"I didn't expect us to have our babies in Sydney and we're lucky to have had the care of wonderful nurses in the NICU. I can't thank enough the people who donate funds to provide the life-saving equipment there. We didn't expect the twins to need such care. Thank you so much."
Every year at The Royal, 4,200 babies are delivered. Around 1,000 babies are nurtured in the NICU, approximately half of them transported by air or road ambulance from out of the area. Generous philanthropic support provides funding for around 70% of the equipment in the Newborn Intensive Care Unit. The lives of premature babies like Tyson and Koa are saved every day by expert care and leading edge equipment purchased through donated funds. All donations are tax deductible.
Your donation to The Royal Hospital for Women Foundation today can help save a premature babies life.